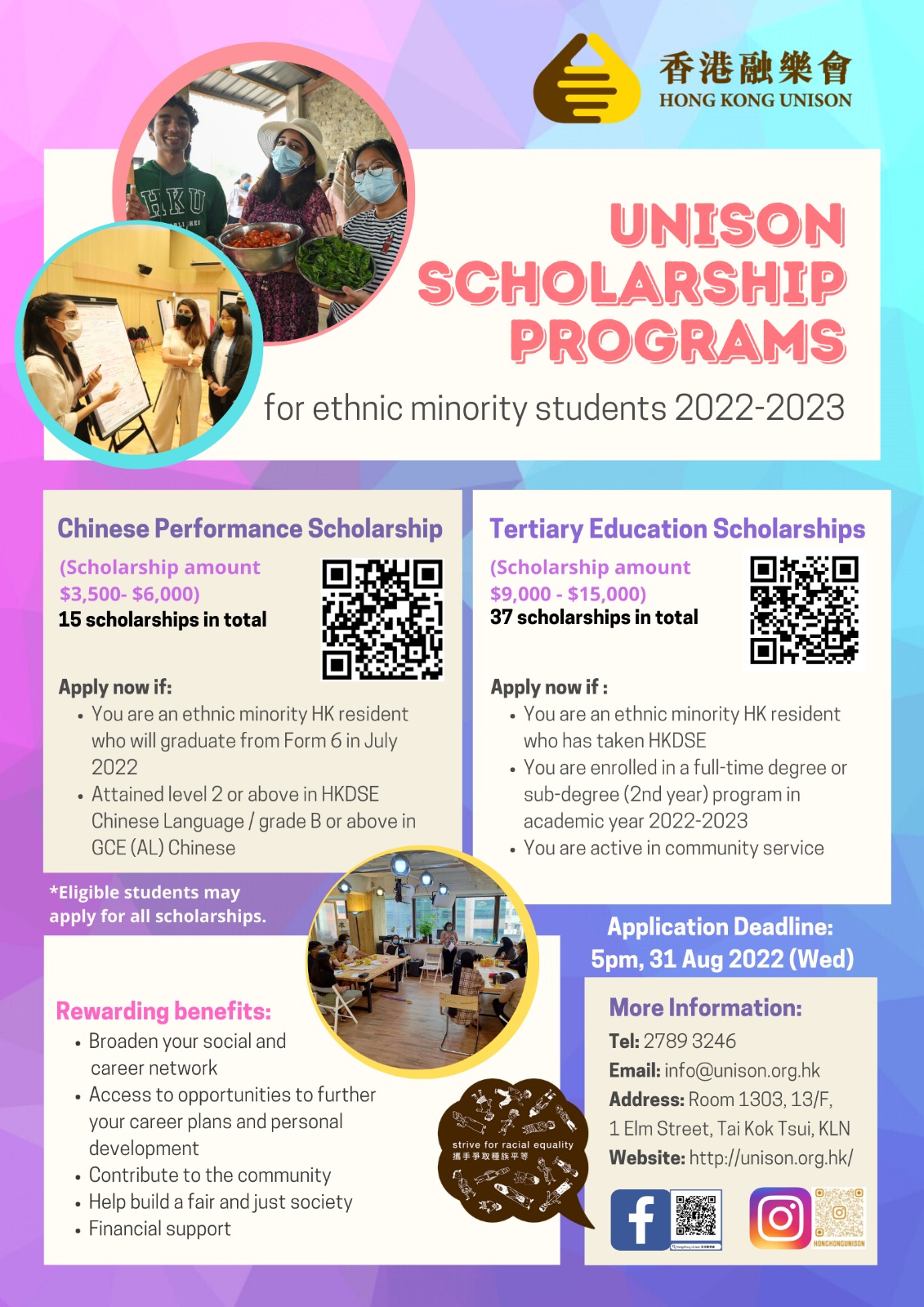 Hong Kong Unison has administered the Scholarships Schemes for Ethnic Minority Students since 2008. With the generous support of various donors, we are able to financially support ethnic minority students in their pursuit of post-secondary education.
The Post-Secondary Scholarship Schemes for Ethnic Minority Students 2022-23 application period is 22 July – 31 August 2022. Ethnic minority residents are welcome to apply.
This year we are offering 37 scholarships for post-secondary students under 2 schemes.
Young Changemaker Scholarship Scheme (YCS): 27 scholarships
Scholarship amount HK$15,000
Recipient will receive scholarship money and a place in Unison Scholarship Awardees Program
Bright Youth Scholarship Scheme (BYS): 10 scholarships
Scholarship amount HK$9,000
Recipient will receive scholarship money and mentoring by Unison Scholarship Alumni
Apply now if: 
•    You are an ethnic minority HK resident who has taken DSE
•    You are enrolled in full-time degree or sub-degree (2nd year) program in academic year 2022-2023
•    You are active in community service
Same application form for both YCS & BYS schemes. Successful candidate will be awarded either YCS or BYS to be determined by the Selection Panel.
Please make sure to read the Application Guideline carefully before you fill in your application.
•    Application Deadline: 5pm, 31 August 2022 (Wednesday)
•    Submission Method: Google form
** Late applications will not be considered. **
Important Dates
22nd July to 31st August 2022 (Wednesday) 5pm

Application Period
(All applications must be submitted to Hong Kong Unison by 5pm, 31st August 2022.)
1st to 10th September 2022

Review of Applications

Short-listed candidates will be invited for interview

16th September 2022
Briefing for short-listed candidates.
22nd to 25th September 2022
Interview for short-listed candidates.
30th September to 1st October 2022

Results announced

The list of awardees will be posted on website of Hong Kong Unison.

Awardees will also be notified by email.
**Unsuccessful applicants will not be notified. If you do not hear from us by end of September, consider your application unsuccessful.**
Please call us at 2789 3246 or email manager@unison.org.hk for enquiries.
Past Results
Click here to view the past results.