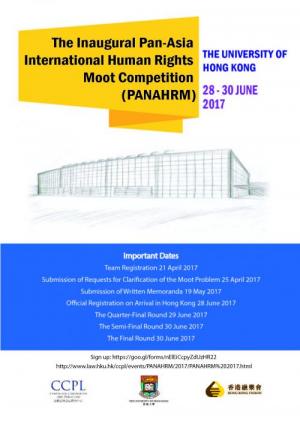 Introduction
The Centre for Comparative and Public Law of the University of Hong Kong ("CCPL") is co-organiser and host of the Inaugural Pan-Asia Human Rights Competition ("PANAHRM") from 29- 30 June 2017. 

In this inaugural competition, CCPL is partnering with Hong Kong Unison, a non-governmental organisation which advocates the rights of Hong Kong's ethnic minorities. 

Among the many international mooting competitions run globally, there has been to date no moot that focuses on the particular human rights issues, emerging norms and jurisprudence in the Asia-Pacific region. Taking note of this gap, the objectives of the Pan-Asian Human Rights Mooting Competition are:
1. To provide law students with an intellectually-stimulating forum to reflect on the dynamic human rights issues across the Asia-Pacific region; 
2. To enhance student knowledge in the field of human rights in the Asia Pacific region;
3. To provide a simulating environment within which law students can test, hone and demonstrate their legal advocacy skills in international human rights law; and
4. To facilitate exchanges between senior members of the legal profession, including eminent members of the judiciary, legal practitioners and academics, and law students across the region.
The Moot Competition anticipates participation from law schools across Asia, including Australia, China, Hong Kong, India, Indonesia, Japan, Korea, Malaysia, New Zealand, Singapore, Taiwan, Thailand and the Philippines.
For details of registration, please click here ('Registration')
For details of the moot problem and clarifications, please find the sections below under the subheadings 'Moot Problem' and 'Clarification'.
For further information regarding the rules of PANAHRM, please find the section below under the subheading 'The Rules'.
Event page click here.
2017 Moot Competition Results
Champion: University of the Philippines
Runners-up: National University of Singapore
Best Memorandum (Applicant): University of the Philippines
Best Memorandum (Respondent): Peking University
Best Oralist: Aaron Yoong (Singapore Management University)
Highlights from 2017 Moot Competition