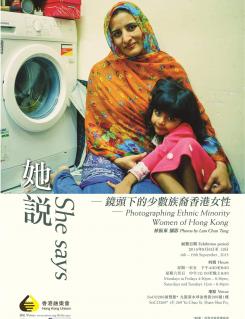 Publisher
Hong Kong Unison
Editor
Mandy Cheuk, Holing Yip
Buy
Hong Kong is a diverse metropolitan, and yet for many people in this Chinese-majority city, the diverse faces and stories of ethnic minorities blur into a homogeneous impression.
Without deeper understanding of each other, we have little hope in eliminating stereotypes and fighting prejudices and discrimination. 
Through this series of portraits and stories of 17 women from diverse backgrounds, "She says - Photographing Ethnic Minority Women of Hong Kong" sets out to tell their life stories and break stereotypes. What we captured at the end was picture upon picture of courage, compassion, strength and grace. "Women are very strong by nature. A woman can handle many things and achieve many things," said one of the women.
Ordering procedure:
Fill in the form
A)
Download
the form, mail or fax to Hong Kong Unison.
Or
B) Fill in and submit this form:
Payment
There are 3 method to complete the payment:
Using Paypal or pay with credit card by Paypal:
Click Buy Now button to complete the payment.
Bank transfer: Please make a direct deposit into bank account (HSBC: #534-642509-001), please send the original bank-in slip by post, email or fax.
Address: Flat 1303, 13/F, 1 Elm Street, Tai Kok Tsui, Kowloon, Hong Kong
Fax: 27891767
Email:
info@unison.org.hk
By Cheque: payable to「香港融樂會有限公司」or "Hong Kong Unison Ltd"
Address: Flat 1303, 13/F, 1 Elm Street, Tai Kok Tsui, Kowloon, Hong Kong
Fax: 27891767
Email:
info@unison.org.hk