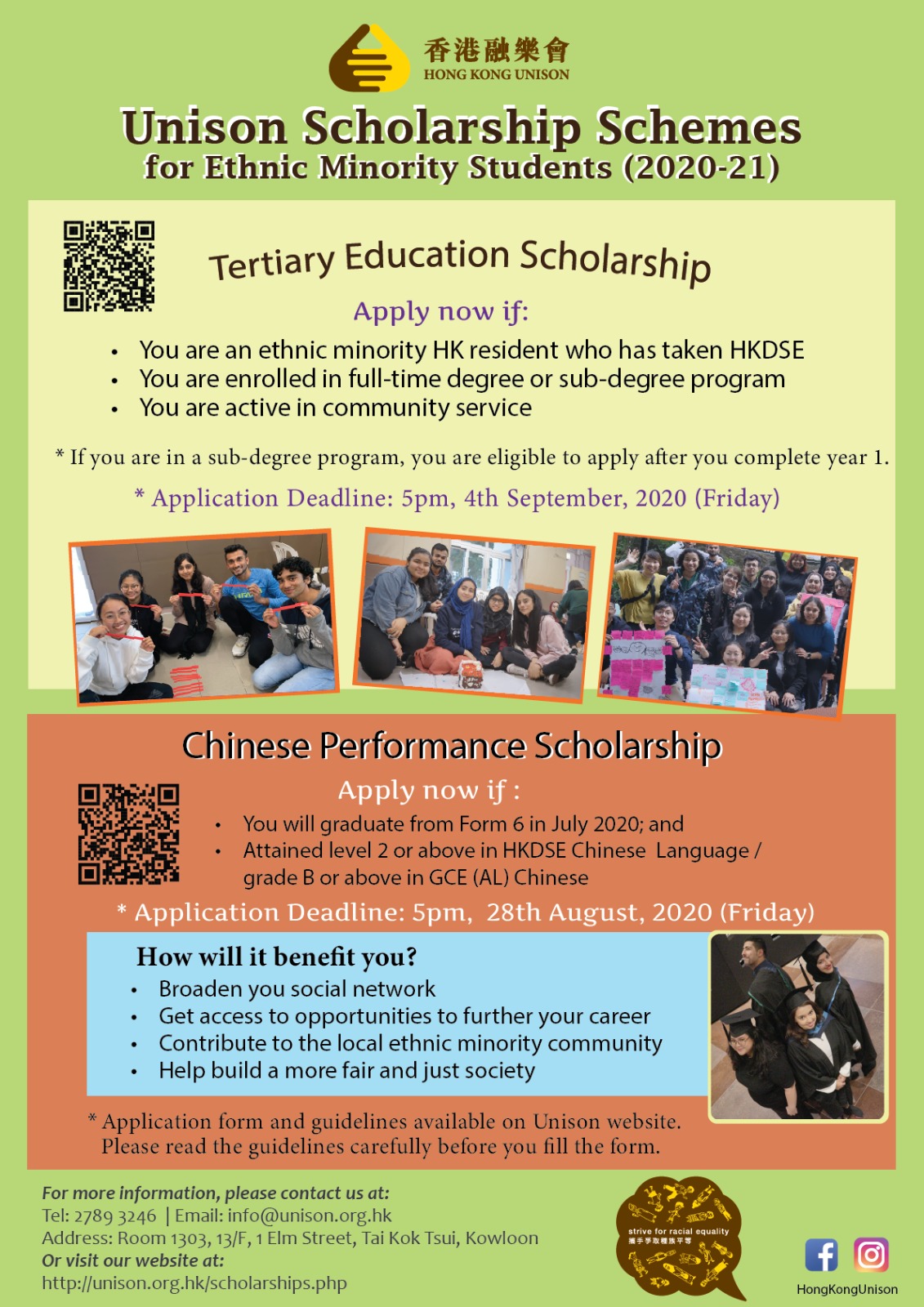 Hong Kong Unison has administered the Scholarships Schemes for Ethnic Minority Students since 2008. With the generous support of various donors, we are able to financially support ethnic minority students in their pursuit of post-secondary education.
2020-2021 Results
We are happy to announce the list of awardees for the Unison Tertiary Education Scholarship Scheme for Ethnic Minority Students 2020-2021. After interviews and careful considerations, we have selected 26 awardees for the year.
We also would like to show our gratitude to sponsors and supporters who have made the scheme possible for Unison and local ethnic minorities.
Members of the interview panel
Dr. Alice Chong, Chair Unison ExCo
Mr. Lai Kin Kwok, Unison ExCo
Mr. Chan Ka Lok, Unison ExCo
Ms. Elaine Ho, Representative of Ho & Fung Charitable Foundation Limited
Mr. Simon Au Yeung , Representative of Merkle Tree Innovation Foundation
Ms. Anne Woo, Representative of The Helena May
Mr. Prakash Pun, Representative of The Gurkhas Group (G3S) Charity Foundation Ltd
Ms. Soundari Mukherjea, ExCo of The Amber Foundation EMPOWER program
Ms. Rosina Shing, Supporter of HK Unison
Ms. Kunj Gandhi, Supporter of HK Unison
Mr. Tayyeb Mohamed, Alumni of Hong Kong Unison Scholarship Scheme
Mr. Ahmed Syed Shakeel, Alumni of Hong Kong Unison Scholarship Scheme
Mr. Club Thapa, Alumni of Hong Kong Unison Scholarship Scheme
Awardees
The Amber Foundation Scholarship for Ethnic Minority Students 2020-21
Ms. Rai Jenny Samekham
Ms. Prabjyot Kaur
Ms. Khan Huma Nisa
Ms. Riaz Maria
Ms. Khan Ruqiyah Manahil
Ms. Bibi Kulsoom
Ms. Pauhlene Kelsey D. Demit
Ms. Bashir Henna
Ms. Mohammad Shamsa Bibi 
Unison Tertiary Education Scholarship for Ethnic Minority Students 2020-21
(supported by various donors including Ho & Fung Charitable Foundation Ltd, Merkle Tree Innovation Foundation, The Helena May & G3S Charity Foundation Ltd)
Ms. Rai Saareeka
Ms. Khan Uzma Nisa
Ms. Chetri Nipurna KC
Ms. Rabia Aslam
Ms. Zulfqar Lareb Bibi
Ms. Akhtar Omme Kulsoom
Mr. Sadakkathullah Insaf Idris
Ms. Ali Kayna Pardines
Mr. Joshua Quijano Valerio
Ms. Sharnasree Datta
Mr. Singh Harmanjit
Mr. Afsar Bilal
Ms. Rosemary Samekham
Mr. Mohsin Khan
Mr. Zain Ul Abbadin
Mr. Din Rahman S.
Mr. Yusuf Mohideen