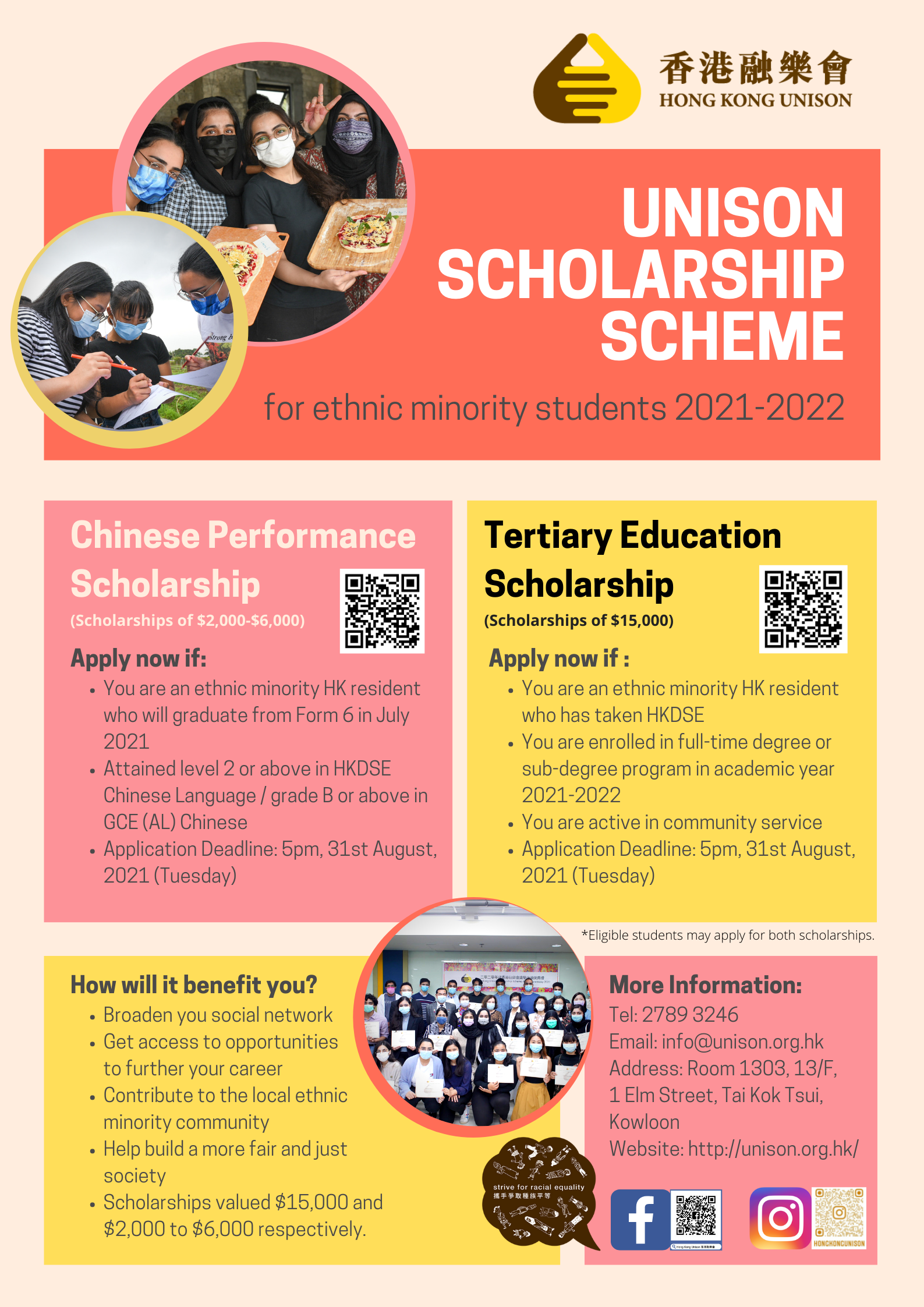 Hong Kong Unison has administered the Scholarships Schemes for Ethnic Minority Students since 2008. The Tertiary Scholarship Scheme for Ethnic Minority Students has been giving financial assistance to students from underprivileged families. The scholarship is awarded based on criteria such as excellence in academic performance, financial needs, social stewardship, leadership skills as well as commitment to contributing to society. With the generous support of various donors, we are able to financially support ethnic minority students in their pursuit of post-secondary education.
2021-2022 Results
We are happy to announce the list of awardees for the Unison Tertiary Education Scholarship Scheme for Ethnic Minority Students 2021-2022. After interviews and careful considerations, we have selected 27 awardees for the year.
We also would like to show our gratitude to sponsors and supporters who have made the scheme possible for Unison and local ethnic minorities.
Members of the interview panel
Prof. Alice Chong, Chair Unison ExCo
Ms. Puja Kapai, Vice Chair Unison ExCo
Mr. Tayyeb Mohamed, Member of Unison
Mr. Club Thapa, Member of Unison
Dr. Ahmed Syed Shakeel, Member of Unison
Ms. Elaine Ho, Ho & Fung Charitable Foundation
Mr. Simon Au Yueng, Merkle Tree Innovation Foundation
Ms. Soundari Mukherjea, ExCo of The Amber Foundation EMPOWER program
Ms. Felicity Mc Robb, ExCo of The Amber Foundation EMPOWER program
Ms. Vinita Sinha, ExCo of The Amber Foundation EMPOWER program
Ms. Tehmi Master, Supporter of Unison
Dr. York Liao, Supporter of Unison
Awardees of Unison Tertiary Education Scholarship for Ethnic Minority Students 2021-22  
The Amber Foundation Scholarship for Ethnic Minority Students:
(Supported by The Amber Foundation and Ashok & Rekha Sakhrani)
Ms. Ruqiyah Manahil Khan
Ms. Godlove Glory Aigbekaen
Ms. Kainaat Asif
Ms. Kulsoom Akhtar Omme
Ms. Prabjyot Kaur
Ms. Ijaz Aesha
Ms. Kulsoom Bibi 
Ms. Maryam Rani
Ms. Henna Bashir
Ho & Fung Charitable Foundation Scholarship for Ethnic Minority:
Ms. Elizabeth Allen Joy Cleofe Poliquit
Ms. Abbas Ifra Shahid
Ms. Shamsa Bibi Mohammad 
Mr. Yusuf Mohideen
Ms. Hadia Saqib
Ms. Sharnasree Datta
Supported by various donors including Merkle Tree Innovation Foundation and Dr. Chan Nim Chung:
Ms. Tshomo Sherpa 
Mr. Abm Farabi Shaomin Dibyu
Ms. Samra Zulfaqar
Ms. Geanna Trisha Lopez Tobar
Mr. Basil Justin Serrano Leung
Mr. Khan Mohsin
Mr. Rahman S. Din
Ms. Zahid Faariah Zaidy
Ms. Bibi Alysha
Ms. Ishah Amin
Mr. Saad Habibullah 
Ms. Ali  Kayna Pardines