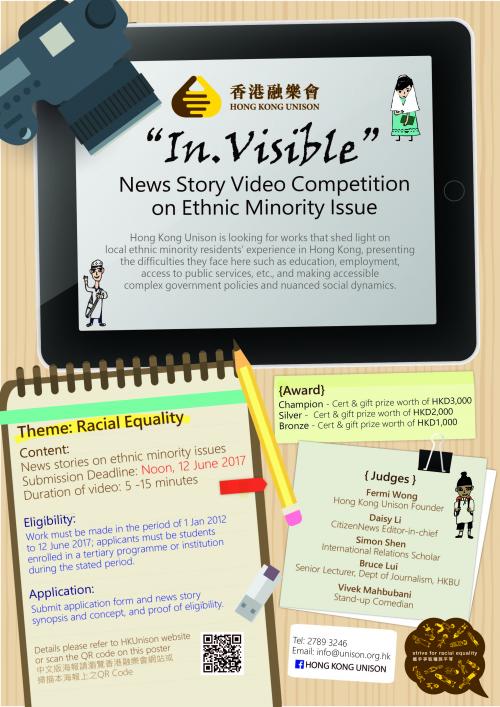 Details of the Competition
Introduction
The presence of ethnic minorities in Hong Kong is not a recent phenomenon. Their history here dates back to the beginning of the city's colonial past. Yet the challenges affecting the local ethnic minority communities are rarely understood well by the mainstream society.
News stories are key mediums through which the public learns about issues ethnic minority resident communities settled in Hong Kong are facing. Hong Kong Unison is looking for videos that shed light on ethnic minorities' experience in Hong Kong, presenting the difficulties they face here such as education, employment, access to public services, etc., and making accessible complex government policies and nuanced social dynamics.
The aim of this competition is to gather news videos on ethnic minorities over the last five years, especially regarding the 4 areas Hong Kong Unison focuses on: (1) equal education opportunities; (2) elimination of racial discrimination; (3) enhancing cultural sensitivity in schools and public services; (4) social participation and empowerment of ethnic minority residents. Winning and outstanding works will be uploaded to let the public learn more about ethnic minority issues.
February 2017

12 June 2017

Submission Deadline
Winner selection

July 2017

August 2017

Public screening & prize presentation ceremony
Winners' submissions uploaded to YouTube channel
Guest judges
(To be announced)
Details
Theme: Racial equality
Content: News stories on ethnic minority issues
Duration of video: 5 -15 minutes
Language: The main language should be Cantonese or English
Format: Full HD 1080p or above, MPEG 4 format
Eligibility: Work must be made in the period of 1 Jan 2012 to 12 June 2017 and key members of the team must be students enrolled in a tertiary programme or institution during the stated period. Participants must submit proof of student status in the form of student ID card (with graduation year), graduation certificate, or letter of proof (with professor signature and date)
Application: Submit application form and news stories synopsis and concept, and proof of eligibility.
Criteria
Video content 50%
Subject matter 30%
Overall performance 20%
Awards
| | |
| --- | --- |
| Category | Prize |
| Champion | Certificate & cash or gift prize worth of HKD3,000 |
| 1st Runner Up | Certificate & cash or gift prize worth of HKD2,000 |
| 2nd Runner Up | Certificate & cash or gift prize worth of HKD1,000 |
Use Right
Winners will be honoured at the award ceremony and their works will be screened afterwards;
The Organizer has the final right to use the selected works in the form of screening and uploading to online platforms designated by the Organizer for education and sharing purposes.
Click here for Rules, Submission Guidelines and Application Form
Please stay tuned through our news feed and Facebook page!
Please submit your application to info@unison.org.hk. Inquiries please contact Hong Kong Unison at 2789 3246 or info@unison.org.hk.
Award Ceremony cum Panel Discussion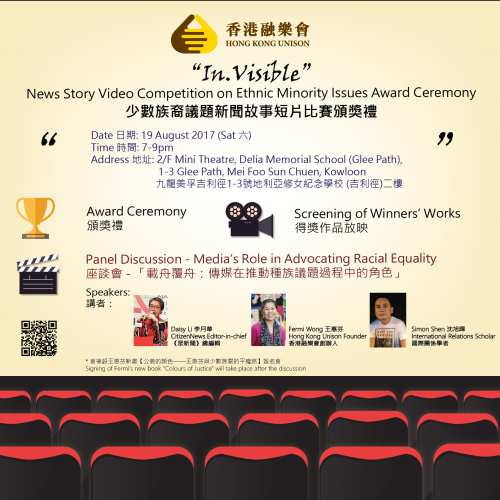 Date: 19 August 2017 (Sat)
Time: 7-9pm
Address: 2/F, Delia Memorial School (Glee Path) (1-3 Glee Path, Mei Foo Sun Chuen, Kowloon)
Content: Award Ceremony, Screening of Winners' Works and Panel Discussion
Discussion topic: Media's Role in Advocating Racial Equality (conducted mainly in Cantonese)
Speakers: Daisy Li, CitizenNews Editor-in-chief x Simon Shen, International Relations Scholar x Fermi Wong, Hong Kong Unison Founder
* Signing of Fermi's new book "Colours of Justice" will take place after the discussion
^ Snacks are provided
Results
Champion
Clip title: Building a City without Walls Part 1 Part 2
Team: Viola Yeh, Ng Hoi Ying, Wong Chun Wai
1st Runner Up
Clip title: My Days in Fu Tai
Team: Li Wai Ting, Chan Yin Sin, Koo Chui Ying
2nd Runner up
Clip title: Can ethnic minorities succeed in Hong Kong society?
Team: Suskihanna Gurung
Event highlight: Photos + Panel Discussion video Part 1 Part 2
Our sincere thanks to our Judges:
CitizenNews Editor-in-chief - Daisy Li
International Relations Scholar - Simon Shen
Senior Lecturer, Dept of Journalism, HKBU - Bruce Lui
Stand-up Comedian - Vivek Mahbubani
Hong Kong Unison Founder - Fermi Wong